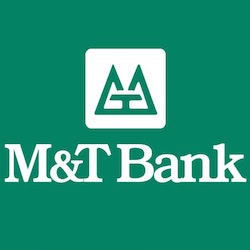 M&T Bank fue fundado en Buffalo, NY bajo el nombre de Manufacturers and Traders Trust Company en 1856. Ahora opera más de 800 sucursales en 10 estados en el este de Estados Unidos.
345 Main Street
Buffalo, NY 14203
CT, DE, DC, FL, MD, NJ, NY, PA, VA, WV
M&T Bank EZChoice Checking
M&T Bank MyChoice Plus Checking
M&T Bank MyChoice Premium Checking
M&T Bank Classic Checking with Interest
M&T Bank Basic Checking
M&T Bank Visa Signature Credit Card
M&T Bank Visa Credit Card with Rewards
M&T Bank Visa Credit Card
Este sitio web no está afiliado, mantenido o patrocinado por M&T Bank. Información proveída en esta página puede que sea obsoleta o no sea precisa. Banqos no asume responsabilidad por la precisión del contenido.